Call for debate over one Black Country council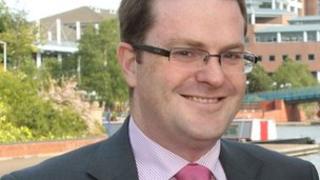 The Black Country Chamber of Commerce is calling for a review of the way the area is governed and a debate over merging its four local authorities.
Paul Bennett, president of the chamber, wants to look into whether having four councils is "fit for purpose" and if one could work better.
He said that it could help to invite investment and regeneration.
However, Darren Cooper, leader of Sandwell Council, said a single authority could lose local identity.
The Black Country's four local authorities are Wolverhampton City Council, Dudley Metropolitan Borough Council, Sandwell Metropolitan Borough Council and Walsall Metropolitan Borough Council.
'Wielding monster'
Mr Bennett said that there should be a "common approach across the Black Country" and "consistency" for when a business is wanting to expand or invest.
He said: "When we are talking to government and to White Hall and we have those conversations, if we are having them four times it is often fragmented and disjointed.
"We can speak on behalf of 1.2m people and attract more projects [if there was one council authority]."
But Mr Cooper is concerned that having one council could "cause issues around democracy", and added the leaders of the four councils already met regularly.
He said: "I would be calling for a referendum and let the people of the Black Country decide whether or not they wanted one council.
"At the moment you have that ability to contact your local councillor and people are still saying they don't see enough of us.
"You create this big wielding monster called the Black Country authority and how are local people in local towns then going to relate to that local council?"
Paul Uppal, Conservative MP for Wolverhampton South West, said there were "pros and cons" to the idea, adding that businesses have said to him that it would "make life an awful lot easier" if there was one point of contact.