Inquest call after woman's cervical cancer 'missed 30 times'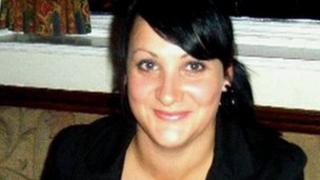 The family of a woman who died from cancer is calling for a inquest into her death, claiming two hospitals misdiagnosed her tumour 30 times.
Jeannine Harvey, 33, from Rowley Regis, died in July from cervical cancer.
Her family said Sandwell and Birmingham City hospitals repeatedly misdiagnosed her with conditions including a torn ligament and nerve pain.
A spokesman for the hospitals said an internal investigation had been done and the family would hear its findings.
The family said Ms Harvey, a mother of four, had pre-cancerous cells removed from her cervix in 2010, so when she visited her doctor in January 2012 complaining of pain, a routine scan was done.
'Really distressing'
It showed a 2in (5cm) lump in her pelvis, but when doctors operated at the City Hospital in Birmingham they did not find it, the family said.
"They woke her up that day and said, 'good news, you haven't got cancer'," said Ms Harvey's sister, Marie Donovan.
"[They said] the mass had totally gone, that it must've been a cyst, because they had checked the pelvis and the ovaries and it was all clear.
"Although we were happy with the verdict that she didn't have cancer at the time, we were still devastated because she was still screaming in pain."
Ms Harvey was referred back to her GP for physiotherapy, after the hospital diagnosed the problem as nerve pain and back problems, the family said.
However, over the next few days she fell several times and was taken to A&E at Sandwell Hospital where she was told she had a possible torn ligament.
"It was like a horror movie, she kept crying to me saying it was like someone was stamping on her between her legs, it was really distressing," said Ms Donovan.
"She used to spend most of the nights in the bath because it would slightly ease the pain. The children had to sleep out of the house some nights to give them a break from Jeannine's screaming."
'Missed opportunities'
Ms Harvey was admitted by her GP to the Medical Assessment Unit at City Hospital in April, where the family said a nurse assumed she was a cancer patient.
She was diagnosed with cervical cancer and sarcoma and died three months later.
Ms Donovan said: "The staff nurse could see almost immediately that it was cancer.
"We want to find out why were so many earlier opportunities missed to correctly diagnose and treat my sister."
The family has appointed a solicitor and Ms Donovan said they were considering taking legal action against the two hospitals.
Ms Harvey leaves four children - Paul, 16, Jack, 12, Frankie, five, and two-year-old Ella.
A statement from Sandwell and West Birmingham hospitals NHS Trust said: "We can understand the need for answers.
"This is what our internal investigation process is about, examining what lessons there are to be learnt and making changes if necessary."