Conservative Party conference demonstrations by police and TUC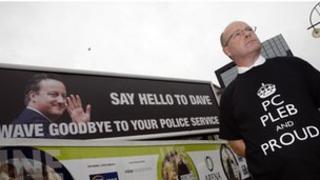 Demonstrations were organised for the first day of the Conservative Party conference in Birmingham by the TUC and the West Midlands Police Federation.
In the area around the International Convention Centre (ICC) the Police Federation put up posters attacking cuts to police budgets.
The TUC organised a march along Broad Street followed by speeches in Victoria Square.
The conference began on Sunday and finishes on Wednesday, 10 October.
Police Federation members wearing PC Pleb T-shirts launched their poster campaign last week in Sutton Coldfield constituency of the Chief Whip Andrew Mitchell.
Mr Mitchell is reported to have called at an officer a "pleb" in Downing Street, although he denies using language attributed to him.
The posters carry the slogan "Say hello to Dave, say goodbye to your police service" over a picture of Prime Minister David Cameron.
Ian Edwards, chairman of West Midlands Police Federation, said: "Our poster campaign reflects the anger of our members."
The TUC rally in Victoria Square heard speeches from Unite, Unison the NUT and rail unions.