Sex offenders targeted in West Midlands Police campaign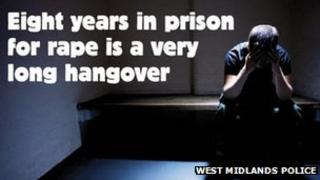 An advertising campaign targeting sex offenders has been launched by West Midlands Police.
Police said they hope the posters, which have a "no excuse" theme, will raise awareness of what constitutes a sexual assault and will also encourage victims to report crimes.
The posters will be displayed in bars and clubs and on buses and trains.
Groups which offer support to rape victims welcomed the campaign, but said it could be harder hitting.
Det Ch Sup Simon Hyde said often sex offenders "don't even realise what they've done is a crime".
He said: "They think because their victim doesn't say 'no' or doesn't physically try to resist the attack, that they are therefore consenting to sex, but that is absolutely no excuse."
Some of the posters highlight that sexual assaults can also occur within a marriage.
West Midlands Police said about 40 serious sexual assaults reported to them each week, but they believe the real figure is "much higher than this".
'Target victims'
Hayley Firman, from the West Midlands Crown Prosecution Service, said independent sexual violence advisors now provide advice and support to victims throughout the prosecution process.
Lisa Thompson, chief executive of the Rape and Sexual Violence Project in Birmingham, said the campaign could go further.
"Firstly, we do welcome West Midlands Police's attempt and wish to catch more criminals in these type of cases," she said.
"However we think that the campaign isn't hard enough.
"We would like the campaign to target victims and helping them to overcome some of the many obstacles they feel about reporting these crimes."
Ms Thompson said the force was now "very good" at making the victim the focus of the investigation and this should be reflected in the ad campaign.
"I think we would get more people coming forward if we actually targeted the victim by saying 'we will believe you, we will take your case seriously and you will get a professional response when you speak to the police,'" she said.