"Unexpected" A&E rates cost University Hospital £7m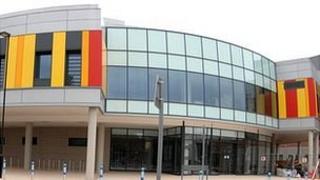 An "unexpected" rise in the number of people using Accident and Emergency has cost the University Hospital of North Staffordshire £7m.
Figures show that between April and August, more than 350 people a day were visiting A&E.
Managers said to meet demand, they had decided to retain 150 beds that were originally planned to close by 2013.
The beds are in the West Building which was due to be turned into offices as part of a redevelopment project.
The 150 beds were due to go as part of a programme of 300 bed closures by next year.
But the hospital said the beds were being retained because A&E patients were waiting too long and not enough people were being treated at GP surgeries and walk-in centres instead.
It said the overnight closures of accident and emergency at Stafford Hospital had also had an impact.
'Mid-term solution'
John Maddison, director of finance, said the hospital had seen "an unexpected and sustained increase in demand for hospital services."
He said: "There have on occasions been longer waiting times in the Emergency Centre than four hours for patients who need to be admitted.
"Retaining the West Building allowed us to reduce this pressure on the Emergency Centre."
Figures show the hospital trust received an additional £1.3m in NHS funding for treating emergency patients.
"Now that these wards are permanently established, we expect to reduce the operating costs to normal levels, as we reduce the dependency on agency and locum staff through a recruitment drive of 100 nurses," Mr Maddison said.
The hospital said that the West Building would be "a mid-term solution" and that plans to close beds could be looked at again in the future.
The new A&E department opened on the UHNS site in Stoke-on-Trent in March and occupies half of one of the six floors of the new £400m facility.
It is one of four major trauma centres in the West Midlands and was expected to treat more than 100,000 patients each year.