Birmingham's largest primary school 'a great challenge'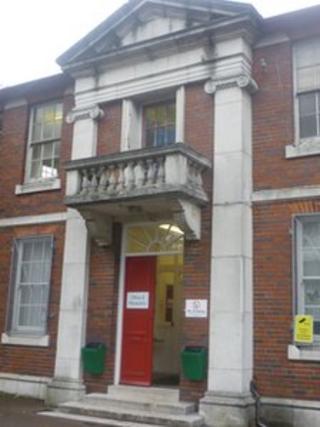 Gerry Hudson is the head teacher of the largest primary school outside London - Starbank in Small Heath, Birmingham, which has about 900 pupils.
Though a teaching union has said "supersized" primary schools in the city are detrimental to pupils, Mr Hudson believes a larger school has its benefits.
The school has been extended to include six new mobile classrooms and a large new playground for football, netball and basketball at its Hob Moor Road site.
Mr Hudson said: "We've got much bigger classrooms than we had before and we've got a decent amount of play space.
"So actually, although we were helping the local authority in providing extra school places, we've actually improved the facilities for Starbank at the same time.
"It's a great challenge - it's really exciting. At the end of the day we're doing a reasonably good job with the children we have."
The school used to have 630 pupils, but doubled its reception intake to 180 for both 2010 and 2011.
Now it has about 270 pupils on the Hob Moor Road site, about 600 at the main Starbank Road site nearby and, since September, about 35 children three streets away at the new Bierton Road facility.
'Not enough space'
Hundreds more could be added in the next few years, given population figures, the school estimated. The council said in 2010 it needed to create 7,000 extra school places by 2020.
Morning play times have to be staggered and the school cannot fit all the children into one hall, but pupils in years one to six can have three assemblies a week, using four rooms across the three sites.
There are also after-school clubs up to four days a week, including football, cricket and homework clubs.
One parent, Abdul Mizan, 48, said it was difficult picking up his boys, aged six, five and four, because they were not on the same site.
He said: "[There's] not enough space... We need one site, [a] bigger place where we can go and can get them easily."
Another parent, Saajda Bir, 31, who has a girl aged nine and a seven-year-old boy, said she was not concerned by its size.
She said: "The bigger the better I think... There's more teachers and there's more helpers as well around the school."
One of the teachers, Fozia Nisar, 29, who has been at the school for six years, stressed class sizes had "not changed", with about 30 children per class.
The year four teacher said she thought the key to such a large school was communication between teachers and children.
She said: "We try and manage it so there's an opportunity for year groups to meet at least once or twice a week so they can discuss their ideas and it's nice to know what's working in one building and what might not be working in another building.
"I think from a child's perspective it's quite exciting to be in a school that's so large it's almost like a secondary school and to have brothers and sisters who possibly go to a different building."
Colleague Shabir Ahmad, 34, who has taught there for two years, said the size gave teachers more opportunities for career development.
He said: "Because of the size of our school, it does mean that teachers can move from one building to another.
"It's almost like going to a new school itself."
Deputy head Satnam Dosanjh, 39, said the size of the school had not had an impact on pupil behaviour.
She said: "Pupil behaviour is actually very good and as our Ofsted report highlighted, it's outstanding."