Walsall English Defence League protest sees 28 arrests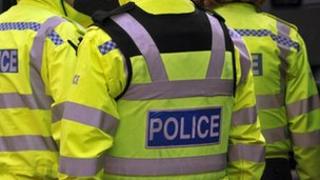 Police have made 28 arrests following a protest by the English Defence League (EDL) in Walsall town centre.
West Midlands Police said up to 1,000 people gathered at the EDL event and at a counter-demonstration.
Witnesses said a small number suddenly charged the police cordon and threw bottles, bricks, and dustbins.
A small number of protesters and police officers suffered minor cuts and bruises during the disorder, but no serious injuries were reported.
Riot officers used batons to try to contain the disorder.
EDL supporters met in Leicester Street from mid-morning, with speakers taking to the stage during the afternoon.
A counter-event of 500 people took place in Gallery Square.
Democratic right
The arrests followed minor disorder which lasted for about 10 minutes as the EDL event ended, police said.
Ch Supt Dave Sturman, commander for Walsall, said: "The majority of people attending the two demonstrations were peaceful and law abiding. Unfortunately a small number of people at the Leicester Street site became a little more aggressive and there was minor disorder for around ten minutes.
"Arrests were made where necessary and further enquiries will be made to determine if any other offences were committed."
He added that it had generally been a successful operation due to work between police, partner agencies and community representatives.
"A great deal of mediation also went on behind the scenes with both the EDL and counter-protest organisers to enable them to exercise their democratic right to protest," he said.
"That negotiation led to the two groups employing their own stewards who played a significant role in attempting to maintain order."
Mr Ram Mehmi, president of the Shri Guru Ravidass Cultural Association in Darlaston, and a member of Walsall Independent Advisory Group, was involved in viewing the police operation throughout the day.
He said: "I have been in a position to see the full police operation as it played out and have been impressed by all I have seen.
"Police were very well organised and the tactical options they used in very difficult circumstances went well to make sure that the safety of the public was secure."