West Midlands metal theft gang members jailed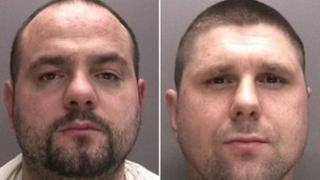 Members of a gang of metal thieves from the West Midlands have been jailed for stealing items worth more than £31,000.
Craig Everitt, 33, and Michael Scanlon, 32, both from Bilston, received 21-month sentences after admitting conspiracy to burgle and to steal.
Steven Everitt, 30, from Bilston, and Kirk Garner, 32, from Oldbury, were given 14 and eight months respectively after pleading guilty to the charges.
A fifth member was given a suspended sentence at Birmingham Crown Court.
Paul Greensill, 19, from Bilston, who also admitted the two charges, received the 12-month suspended sentence for a young offenders' institution as well as a 12-month supervision order and 100 hours' unpaid work.
Peter William, 26, of Ashfield Road, Bilston, was fined a total of £715 after admitting handling stolen goods.
Thieves used dinghy
West Midlands Police said Craig Everitt, from Daley Road, had led the gang of six on a number of nighttime and weekend raids at various businesses across the Black Country.
The force said he was caught in July last year after he had attempted to steal two tons of ingots from Evans and Reid Alloys in Anchor Road, Bilston.
Both Craig Everitt and Scanlon, from Hinchcliffe Avenue, fled the scene when they heard a police helicopter overhead while attempting to load a dinghy on an adjacent canal.
Police said while "eight separate incidents were included in the conspiracy charges", the gang members "only pleaded guilty on the basis that they would admit just some of the crimes".
'Justice they deserve'
Det Insp Darren Crutchley, who led the investigation, said: "This was a group of organised career criminals, led by Craig Everitt, who would take them all out on a daily basis to commit crime.
"The men would steal anything of worth, with complete disregard for the damage they caused in the process.
"Through their network of underworld associates, the gang would make cash from their loot, while their victims were left to pick up the pieces.
"The thefts and the damage they caused had a massively disruptive impact on small businesses and the local community.
"A large police operation was put in place following the spate of thefts, with significant resources ploughed into tracking down the offenders.
"I'm pleased with the sentences handed down today and that the many victims have now got the justice they deserve."