West Bromwich Building Society announces Dudley move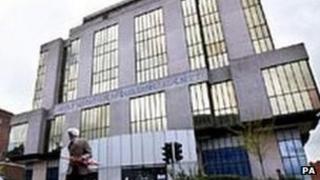 The West Bromwich Building Society has revealed plans to move its headquarters from the town of its birth more than 160 years ago.
The building society said some 500 staff would be involved in the move to new offices in Dudley, which is planned for autumn 2013.
It said no job cuts would be made and the new HQ on the Point North site would allow for future growth.
Sandwell Council said it was "shocked and deeply disappointed" by the news.
Council leader Darren Cooper said the building society was "abandoning" local people and "its own history".
He said the local authority had offered land and attractive financial terms in a bid to keep the building society in West Bromwich.
Despite losing 500 jobs from the town, he said plans to attract £400m of development and "thousands" of new jobs remained "on track".
West Bromwich Building Society's new offices at The Waterfront in Merry Hill include 70,000 sq feet (6,500 sq m) of office space and is expected to be used to support the organisation's 38 branches, as well as administration and provide a service centre.
Chief executive Jonathan Westhoff described it as an "essential move", which would allow for future expansion.
He said it also showed the organisation was "totally committed to the Black Country".
Shaukat Ali, deputy leader of Dudley Council, said the move to Point North would be "a major factor in stimulating further investment in the area".