Abandoned BBC Gardeners' World plot an 'urban veg hub'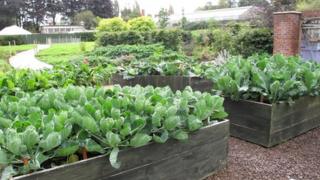 In April last year, BBC managers were accused by Amateur Gardening magazine of "horticultural vandalism" after the former home of Gardeners' World in Birmingham was left abandoned.
The show stopped filming at the Greenacre site in Edgbaston at the end of 2010, when it was relocated to Monty Don's own garden in Herefordshire.
The land, which is owned by the nearby King Edwards School, has now been taken over by staff at the adjoining Winterbourne House and Botanic Garden, who have turned it into a hub for "urban vegetable growing."
"We want the centre to breakdown the misconception that you need an acre, a garden or an allotment to grow your own vegetables," said Anna Williams from the Winterbourne house team.
"There's an awful lot that you can do with just a balcony, like growing tomato plants and even if you've got a small yard you can get some planters and grow a great crop."
'Chicken keeping'
The Urban Veg project started on a small scale in March.
Fifteen members of the Islamic community were invited to take up a plot in the walled garden at the Botanic garden to grow their own vegetables.
Ms Williams said: "Traditionally, people that come to visit botanic gardens are not necessarily representative of the communities which we live in.
"Birmingham is a very multi-cultural city and we felt that it would be great to break down those boundaries and get people into the garden who may have thought in the past it wasn't for them."
Winterbourne House said the success of that project led to them expanding it to other communities and taking over Greenacre.
It said instead of inviting groups to take on plots as before, staff would maintain the garden and Urban Veg would be a training base.
"It's about fostering relationships with other community groups who want to start up their own initiatives where they live, but maybe they don't have the skills to do so," said Ms Williams.
"The courses will be available to anyone, whatever background, and will look at not only planting stuff in the ground but also bee keeping, chicken keeping, things like that."
'Social reform'
The garden will also be used to train 60 NHS staff from across the West Midlands region to become "urban food growing champions."
Ms Williams said: "After training here, they'll go back to their own NHS Trust areas to set up their own community garden groups to promote gardening for healthy living and healthy eating."
Winterbourne House was built in 1903 by British industrialist John Nettlefold, and Ms Williams said she felt Urban Veg was extending his legacy.
"He was active in the local community and felt strongly about social reform," she said.
"He was one of the first chairman of the Birmingham Housing Committee and he felt that everybody should have access to a garden and better living conditions.
"The idea here has the same ethic."