Birmingham city centre walkway lights blown down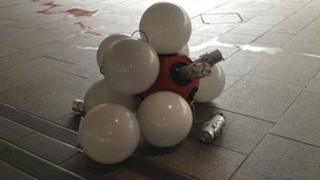 A set of lights in a walkway under a Birmingham city centre flyover has blown down in the wind.
BBC WM presenter Gareth Evans, who was under the Queensway flyover near The Mailbox shopping centre, said it was lucky no-one was under the lights.
The Mailbox said it instructed maintenance teams to test other lights to "deal with the immediate concern".
The last of five flood warnings issued in the West Midlands on Monday has been downgraded by the Environment Agency.
On Monday fire crews had to pump water out of a school and rescue two horses.
'Huge lampshades'
The Met office has forecast up to 3in (76mm) of rain between Monday and Wednesday.
Heavy downpours across England have resulted in homes being evacuated, disruption to train services and school closures while many roads have been closed as a result of flooding.
Tuesday's incident under the Suffolk Street Queensway flyover happened at about 11:50 BST.
Mr Evans said: "One minute I was walking underneath the Queensway flyover outside the Mailbox admiring the lights and the next I was helping pick up the huge lampshades that had bounced onto Navigation Street.
"They were blowing in the wind but you never expect something that big to blow down.
"It's lucky no-one was walking under it when it fell."
'Close proximity'
In a statement, The Mailbox said it was "extremely concerned" to hear of the incident, but "relieved to learn that that no one was injured".
It said: "We are especially concerned because of the close proximity of the incident to our building, so much so that we instructed our maintenance teams to secure the area and test and secure the other lights in order to deal with the immediate concern.
"We are now looking into the incident alongside the local authority, so that we can work in conjunction to avoid any future incidents."
The Environment Agency is monitoring river levels across the West Midlands.
A spokeswoman from the fire service said crews had pumped water at Perryfields High School in Oldbury as there was a danger to the electricity supply.
Two horses were rescued from a flooded field near Tame Bridge Parkway station in West Bromwich after flood water had risen half way up their legs.
Heavy rain also caused delays on the M6 between junctions five and six, and on the M5 between junctions two and three.
An Elite League play-off semi-final first leg of speedway between Birmingham and Swindon was postponed on Monday because of bad weather.