Naila Mumtaz murder: Four family members jailed for life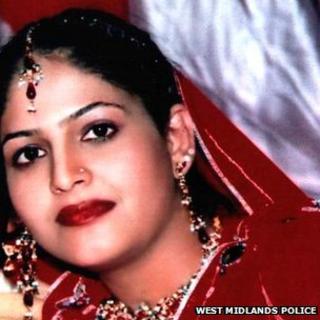 A man who murdered his pregnant wife has been jailed for life, along with three other family members.
Mohammed Mumtaz, 25, from Birmingham, had claimed Naila Mumtaz, 21, tried to strangle herself at home in 2009.
Mumtaz, his parents Zia Ul-Haq and Salma Aslam, both 51, and brother-in-law Hammad Hassan, 24, were all found guilty after a trial earlier this year.
Birmingham Crown Court heard Mrs Mumtaz's in-laws thought she was possessed by evil spirits.
The trial heard evidence that Mrs Mumtaz was killed during attempts to render her unconscious as family members attempted to drive out a harmful "djinn" spirit.
Found by paramedics
Mrs Mumtaz, who was pronounced dead in hospital, was six months pregnant and had moved to the UK in 2008 after an arranged marriage in Pakistan.
Her body was found by paramedics in a bedroom at the family home after they were called to the property in the early hours of 8 July 2009.
Sentencing the four members of the family, all of Craythorne Avenue, Handsworth Wood, the judge at Birmingham Crown Court told them they had "betrayed" Mrs Mumtaz.
Mumtaz, who had to be helped out of the dock by his father, was jailed for a minimum of 13 years.
His brother-in-law, Hammad Hussan, was also imprisoned for at least 13 years.
Zia Ul-Haq and Salma Aslam were told they would each serve a minimum of 15 years.
Possible motives for the offence raised during the trial were that the defendants believed Naila's unborn child was not her husband's - or that she was possessed by a jinn sent from Pakistan.
The judge, Mr Justice Keith, said it was unlikely the defendants believed Naila was pregnant by another man.
He said: "The other possibility explored in the course of the trial about why Naila was smothered was that the defendants believed that Naila had been possessed by a djinn, which had been sent from Pakistan by Naila's parents, and that they ... smothered her in order to get rid of the djinn.
"I regard this as a less unlikely explanation for what happened."
Jurors were told that numerous telephone calls were made to Naila's relatives in Pakistan, the emergency services and other individuals in the hours before she was taken to hospital.
During the calls, it was alleged Ul-Haq claimed that a spirit had been sent from Pakistan, while a female at the house was allegedly heard to say "don't call an ambulance yet - we will cure her ourselves".
In his account to police, Mumtaz maintained that injuries to his wife's body were self-inflicted and claimed that a person was present at the house praying "to get the spirit out of her".
During his sentencing remarks, the judge said: "She was her parents' only daughter and her death has left a terrible gap in their lives.
"What aggravates the case is that Naila was pregnant at the time of her death, isolated from her family in a country unfamiliar to her and spoke little if any English."
Mumtaz, his parents, and Hassan had denied both murder and manslaughter.
'Hopes destroyed'
The judge urged the prison authorities to house Mumtaz, who suffers from a severe disability, in the same cell as his father so he can be properly supported during his imprisonment.
Mrs Mumtaz's relatives issued a statement through West Midlands Police which read: "Naila was a happy, confident and beautiful young woman.
"She came to Britain to be with her husband; we entrusted our most treasured, beloved only daughter to him and his family.
"Naila was almost six months pregnant with her unborn son when she was killed in her home destroying her hopes, dreams and opportunities for the future.
"We are very grateful for the jury using plain common sense in bringing the perpetrators to justice.
"Naila will always be in our hearts and prayers and we hope her memory will live on by bringing about awareness of the issues surrounding her unfortunate death."
Det Insp Simon Astle said: "This was a tragic and deeply upsetting case, where a young woman had her life so horrifically ended by those she loved and trusted.
"Naila was a pretty, outgoing young woman who was soon to become a mother for the first time.
"It is unthinkable that those who she was closest to would take her life in the belief that she had been possessed by evil spirits.
"Naila should now be enjoying the joys of motherhood and family life but instead her family back in Pakistan continue to mourn her death, still shocked and unbelieving that the family she entered into caused her death."