Maxie Hayles closes Racial Attacks Monitoring Unit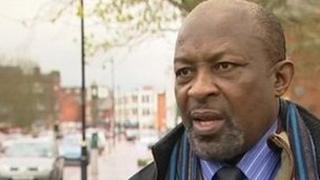 A veteran anti-racism campaigner has blamed a lack of funding for his decision to wind up the organisation he formed 23 years ago.
Maxie Hayles founded the Birmingham Racial Attacks Monitoring Unit (Bramu) in 1989.
Bramu has depended on community funding since it lost a council grant in 2010.
The city council said funding for the organisation was not renewed "due to the tough economic climate".
Mr Hayles said: "The name of Bramu goes but at the same time something else will have to replace it with that vigour and enthusiasm and drive."
He said Bramu had continued for two years on money given by the community, trade unions, and churches.
'A godsend'
The organisation has now been officially taken off the register at Companies House.
The 67-year-old insists there is still a need for watchdog bodies that are "independent of government".
"Since Bramu came into existence it has dealt with over 30,000 inquiries and over 6,000 live cases - so that's the need," he said.
Sonia Webster, who was helped by Bramu, called the organisation "a godsend".
"We could not have continued without them being behind us all the way," she said.
Mr Hayles was presented with a lifetime achievement award from the Reverend Jesse Jackson in 2008 for his work defending human rights and race equality.
"I won't retire from community work as long as I live," he said.
The city council has urged victims to contact the police or the Birmingham Community Safety Partnership.