Aston Villa staff's Stiliyan Petrov charity bike ride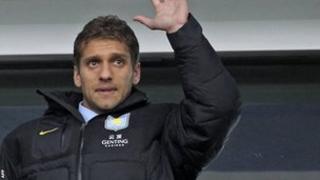 Two friends of Aston Villa FC club captain Stiliyan Petrov have started a 400-mile bike ride to raise funds for blood cancer research.
The 33-year-old Bulgarian international was diagnosed with acute leukaemia in March.
Club masseurs Alex Butler and Andy Smith hope to raise £250,000 by cycling from Petrov's former club Celtic, in Glasgow, to Villa Park, in Birmingham.
The money will go towards the Leukaemia and Lymphoma Research charity.
The Pedal for Petrov challenge has already raised more than £40,000.
The cyclists were presented with a £5,000 cheque by Celtic manager Neil Lennon as they left the stadium.
'Make him laugh'
Mr Smith said: "Stan, especially with us two, keeps us busy. He's in most days for massages and whatever. So we've really seen a difference and missed him at the club.
"But obviously the most important thing now is that he's home and he's resting and getting better."
Petrov, who is now in remission after treatment, said: "They've been very close since I came here.
"It's great what they're doing, first of all for leukaemia research and for me as well. It's going to be tough for them, but they've been working really hard."
The Pedal for Petrov challenge will take the masseurs to the stadiums of several Premier League football clubs, including Newcastle United and Everton.
Mr Smith said: "When something like this happens, the football community all come together, and we've had great support from clubs, fans and just people in general because it's for a good cause.
"Hopefully we can make Stan laugh when he sees us struggling on the bikes over the week and it will be worth the effort."
Mr Butler said: "We've all been at the club for around the same period of time and we get on really well, and he's always looked after us.
"When we needed him he's been there so when he needed us we wanted to show him that we love him."
Mr Butler and Mr Smith said they planned to arrive back in Birmingham on Sunday.