Dudley 'worst among medium centres' for empty shops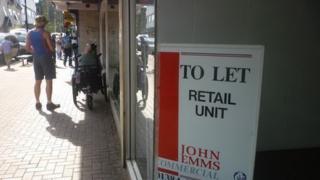 Dudley has the worst percentage of empty shops among all medium-sized town centres in Britain, new figures show.
Statistics compiled by the Local Data Company (LDC) showed 32.4% of Dudley's shops were vacant between January and June - the highest figure among centres which have between 200 and 399 shops.
Another West Midlands town, Walsall, had the second highest figure - 29.6% - of centres with 400-plus shops.
An average of 14.6% of shops now remain empty across Britain, LDC said.
Dudley Council deputy leader Shaukat Ali said: "Whilst we haven't seen the data from the Local Data Company for this current report, we have previously questioned how these statistics are compiled and officers are in discussion with the company."
Major transformation
LDC said the figures refer "to the retail core of Dudley town centre as defined by the Department for Communities and Local Government".
Mr Ali, cabinet member for regeneration, said the council was working with traders "and other stakeholders in the town centre on a strategy to, among other things, increase take up of vacant units".
He added: "This was the focus of our recent bid for monies under the Portas initiative which did not get funded."
In England, 27 areas have been chosen to share £2.7m as Portas' Pilots projects. The government scheme is spearheaded by retail expert Mary Portas to regenerate the High Street.
Mr Ali added there were "a number of exciting regeneration projects" under way, including redevelopment at Castle Hill to "enhance the area further as a regional leisure and tourism destination".
He said a major transformation of the town's historic market place was also under consultation.
Dudley resident Margaret Gallagher, 72, said: "I think they need to make it more friendly for people who don't use cars because the people who use cars go to shopping centres.
"So I think it needs to be more bus friendly."
Also speaking on Dudley's High Street, Bob Oliver, 69, from nearby Pensnett, said: "Obviously there is this problem going on with people spending less, but I honestly haven't got any easy answers.
"It's the competition still from Merry Hill [shopping centre] I suppose."
Shazadi Shah, 46, who was born and brought up in Dudley, said: "There's just too many empty shops, especially on the main high street.
"There's still plenty of people coming into town but I think there should be more small businesses."