Education Secretary Michael Gove opens new free school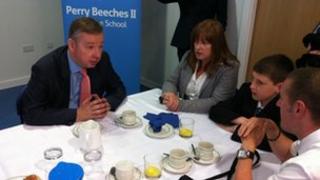 Education Secretary Michael Gove has officially opened a new free school in Birmingham.
Perry Beeches II, on Newhall Street, is one of three new free schools opening in the city this week.
The schools are funded by central government, but not run by local authorities.
Nishkam Secondary School, in Handsworth, and The East Birmingham Network, a partnership of 12 secondary schools, are also to open their doors.
Head teacher of Perry Beeches II, Jackie Powell, said they were trying to offer children a "broad and balanced curriculum".
"We are seeking to be part of Birmingham, and enable our students to have access to all the resources Birmingham can offer us," she added.
"This is a group of children from one of the most deprived areas of Birmingham and until now have had no local school to attend."
The school is already oversubscribed, with 115 applications for 100 places.
'Teething problems'
Fifty-five new free schools are opening across England this September, to add to the first 24 which opened last year.
They can be set up by groups of parents, teachers, charities, businesses, universities, trusts, religious or voluntary groups
A further 114 have been approved for opening in 2013.
Labour has criticised the amount of public money spent on projects that have faced delays or been abandoned.
But Education Secretary Michael Gove said "so far all the evidence is that they have been a success".
"Inevitably when you've got a new policy there will be some teething problems. The important thing though is if you want them to improve you have got to reform," he added.
Perry Beeches II is linked to the Perry Beeches Academy in Perry Barr, which Mr Gove described as "an amazing school, one of the most improved in the country".
Some teaching unions are concerned about free schools weakening already weak schools in the area by attracting the best performing pupils and argue the money put into them could be better spent improving existing schools.
Wayne Bates, General Secretary of the NASUWT in Birmingham, said: "Public money is being poured into a handful of free schools to the detriment of existing schools and the children and young people who attend them."