Birmingham Annual Gardening Show back on at new venue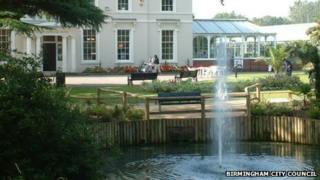 An alternative venue has been found for a new gardening show in Birmingham that was called off because of the weather, organisers say.
Residents, societies and businesses had joined forces to help reinstate the Birmingham Annual Gardening Show (Bags) at Kings Heath Park.
Now, the event will go ahead at Bordesley Green Allotments, instead.
Taking place on 1 and 2 September, it will feature flower displays and allotment holders' produce.
Jonathan Jaffa, Bags organising committee chairman, said: "It's a big dry site that is partly allotment and partly park.
"It's essentially the same show transposed to a different site because the park was waterlogged."
A gardening show has been held in Kings Heath for about 30 years, but last year it was cancelled by Birmingham City Council because of costs and declining visitor numbers.
Kings Heath groups petitioned the council to get the event reinstated in the park and it led to the organisations receiving a council grant of £20,000 to run the show themselves.