Wolverhampton Amateur Boxing Club aims for Rio 2016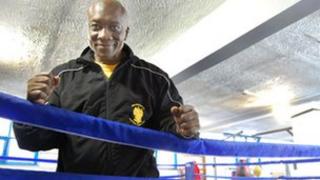 "Having the Dominica team here inspired me," said boxing coach Marcus Ashman.
Mr Ashman helped train the Commonwealth of Dominica Olympic team.
Middleweights Hewlett Lucien, 26, and Rowan Christopher, 33, were among six boxers who trained at Wolverhampton Amateur Boxing Club (WABC) ahead of an Olympic qualification event in Brazil in April.
The WABC has strong links with the small Caribbean island team through ex-club member Trevor Nerwell, 44, who kept in touch with WABC after returning home to Dominica in 2007.
Mr Nerwell had concerns about the lack of facilities in his home town so the Wolverhampton club sent over a boxing ring and training equipment to enable him to set up his own club, chairman John Thomas said.
Aiming for Rio
It was because of this donation the Dominica team then wanted to train at WABC in the lead up to London 2012.
Dominica team boxers trained at WABC between January and April 2012. The club and its volunteers decided it would help fund the stay during this time.
The Olympic hopefuls had also sparred with boxers from clubs in Birmingham, Wednesbury and Wodensborough to build up their experience.
Wolverhampton's treasurer and volunteer coach Dave Poston, 76, said the Dominican team visit had been "really inspiring" and gave their club members a "great experience".
Mr Poston, who has been with the WABC for 55 years, said he was now also pushing for club boxers to make the team for the Rio 2016 Olympics.
He said: "Boxers have to be dedicated and it's early days but we've some members who want to go to the Olympics after seeing the success [of Team GB] and meeting with the Dominica team."
One of these boxers is 15-year-old Ryan Haynes, who has decided turning professional is something he would like to do when he leaves school.
He said: "I've trained with the Dominica team and did my running with them and they were telling me about [the Olympics] and how they felt inspired and it made me want to go for it."
When asked how he would stay focused in the four years leading up to Rio, he said: "I've got my own routine and I get up every day and run at 4:30, and watching the Olympics and seeing the gold medallists it's inspired me a lot to keep my routine going."
Coach George Langford, 68, described boxing as "a family" and thought the legacy would continue post-Olympics.
He believed the success of the Dominica visit had "brought more discipline" to the Wolverhampton boxers.
This story, originally published in August 2012, was altered on 3 October 2013 in light of new information.