Flats evacuated after fire in Wolverhampton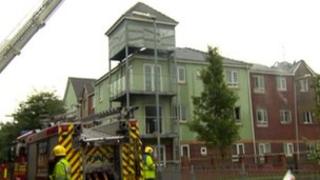 A block of flats in Wolverhampton has been evacuated after a fire.
West Midlands Fire Service said 40 firefighters were called to the blaze at the three-story building on Willenhall Road on Saturday. Crews worked overnight to put it out.
Engineers have declared the timber frame building structurally unsound and said it might have to be demolished.
About 30 people from the flats have been rehoused by Wolverhampton City Council, the fire service said.
Crews spent up to 11 hours putting the fire out and will remain on site as the building was still smouldering, a spokesman from the service said.
The cause of the fire is said to be accidental, he said.
A meeting is due to be held on Monday to further assess the damage to the building and decide whether it will need demolishing.