Birmingham riot burglar: 'I was wrong to be in that shop'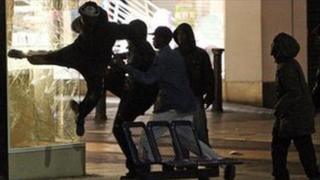 "I feel sorry I ever went in that shop," says Ivor McCooty, a year after burgling a petrol station during riots in Birmingham.
Mr McCooty, of Lee Bank, Birmingham, was jailed for 16 months on 26 August last year, after pleading guilty to the break-in as disorder erupted in the city.
The 45-year-old said he did not take anything from the garage, which had previously been raided by someone else.
And, despite feeling his sentence was harsh, he accepts he was in the wrong for being on the Bristol Street premises.
The rioting started in Tottenham, north London, on 6 August after a peaceful demonstration over the death of a man who was shot by police.
'Went for cigarettes'
It spread to other cities including Birmingham, Liverpool, Nottingham and Bristol over the next four nights.
Mr McCooty, who has now been released on licence, said he was the first person to be sentenced at Birmingham Crown Court.
"I went to buy some cigarettes then someone else arrived there and took the hoarding off the building and went in," he said.
"About one-and-a-half hours later, I went back to the shop and I picked up four [cans of lager] and put them back down, and as I'm coming out the police have arrived and set the dogs on me.
"I can see why I was arrested. The person who went in under the hoarding brought out drink, but I had no idea the shop had been broken into."
Latest figures from West Midlands Police reveal the total number of those arrested in connection with the disturbances totals 773, with 347 people prosecuted, leading to 276 convictions.
'Unaware of riot'
The total sum of the sentences given to offenders stands at 364 years and 10 months.
The Ministry of Justice said 29% of people involved in the region were juveniles, with 10% aged 40 or over.
Mr McCooty said that when he broke into the petrol station he was unaware of the unfolding disturbances in the city.
"I only knew about the rioting and shops being targeted and what was going on when I was taken to the police station," he said.
"I pleaded guilty because the police had already said from when you are in the premises, it is burglary.
"As far as I'm concerned, I was in the shop and I was in the wrong - I'm in a premises that I should not have been in.
"I was the first person to be convicted at Birmingham Crown Court and the judge said he was going to make an example of me, but I believe my sentence was harsh."
'Changed my life'
Sentencing Mr McCooty, who is a father, the judge said that "for a few days, in certain areas of England, our civilised society broke down".
Mr McCooty said his actions were having a lasting effect on his life.
"I'm on licence; it has changed my life in so many ways," he said. "I'm a 45-year-old man and I've never been in this situation before.
"People look at you totally differently. I feel sorry I ever went in that shop."