Naila Mumtaz death: Family members found guilty of murder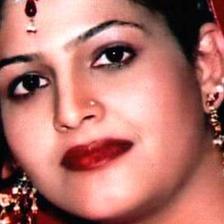 Four members of a Birmingham family have been found guilty of murdering a pregnant woman they believed was possessed by a djinn, or evil spirit.
Mohammed Mumtaz, 25, claimed his wife Naila Mumtaz, 21, had tried to strangle herself at home in 2009.
He was found guilty along with his parents, Zia Ul-Haq and Salma Aslam, both 51, and brother-in-law Hammad Hassan, 24, all of Craythorne Avenue.
All four will be sentenced at Birmingham Crown Court at a later date.
The body of Mrs Mumtaz, who had been six months pregnant, was found by paramedics in a bedroom at the family home on 8 July 2009.
Wendy Bounds, from the West Midlands Crown Prosecution Service, said the "kind-hearted and beautiful young woman" had agreed to leave Pakistan and enter into an arranged marriage with Mumtaz.
She added: "She was aware that he suffered from a physical disability, but she was not put off by his appearance, taking the kind-hearted view that all living things had the same value.
"However, the jury today found that her husband and his family did not share her values."
Prosecutor Christopher Hotten QC had quoted details of Mumtaz's account to police after his wife's death, saying: "He said she started to grab her own face and was screaming in anger.
"She tried to bite her mother's hand. The whole family were trying to hold her down.
"It was like she couldn't remember who we were. She suffocated herself by putting her hand in her mouth and she tried to strangle herself.
"It was, he said, more like a suicide. He said it was possible that Naila had been possessed by a djinn spirit and said he himself about a month before Naila died had been similarly possessed, and again possessed at the coroner's court after her death."
In a statement, Mrs Mumtaz's family said: "Naila was a happy, confident and beautiful young woman.
"She came to Britain to be with her husband. We entrusted our most treasured, beloved only daughter to him and his family.
"Naila was almost six months pregnant with her unborn son when she was killed in her home, destroying her hopes, dreams and opportunities for the future.
"We would like to thank West Midlands Police and Crown Prosecution Service in seeking justice for Naila.
"We are very grateful for the jury using plain common sense in bringing the perpetrators to justice.
"Naila will always be in our hearts and prayers and we hope her memory will live on by bringing about awareness of the issues surrounding her unfortunate death."
Related Internet Links
The BBC is not responsible for the content of external sites.