Birmingham City Council plans to introduce 'living wage'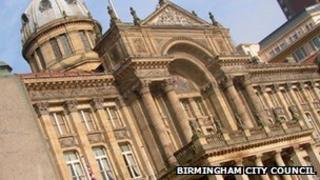 Thousands of the lowest paid workers on Birmingham City Council are set to see their wages increased under plans approved by the local authority.
The cabinet has backed plans to raise the minimum wage from £6.39 to £7.20 an hour for about 3,000 staff.
It is expected to cost the council about £1m this year, which is looking to make cuts of £62m from its annual budget.
The council said it would encourage contractors to introduce the same wage.
The council said the £7.20 rate represented a "living wage", the lowest amount anyone should earn to be able to cover their basic costs.
Some business leaders have said the plans could damage local firms and make them less competitive.
Jerry Blackett, chief executive of the Birmingham Chamber of Commerce, said: "It's not for us to tell the council how to run itself.
"But one of my concerns is that there is talk from the council that in future, if you want to supply services to the council, you too will also have to pay the Birmingham living wage to your employees.
"There are thousands of people in Birmingham in work on the minimum wage and small businesses in particular looking to supply to the city council are just not in a position to increase their wages by about 16%."
'Fair day's pay'
Labour gained control of Birmingham City Council from a Conservative/Liberal Democrat coalition at elections in May.
Deputy leader Ian Ward said the plans would make recruitment easier for some posts and simply meant "a fair day's pay for a far day's work".
"It reduces the level of staff turnover. It means staff are more motivated, we get better loyalty out of staff and we get better performance out of staff."
Mr Blackett acknowledged that many businesses across the country had been forced to "eat humble pie" due to their reluctance to accept the minimum wage, which also put them in a difficult position to argue against the council position.
But he warned that raising wages to supply to the council would make businesses less competitive when supplying to other, sometimes global, companies.
Mr Blackett added: "Big businesses already pay above the minimum wage, it's not going to affect them.
"If the council is serious about small businesses winning more of its business, I don't think this is going to help us."