Police privatisation plans in the West Midlands put on hold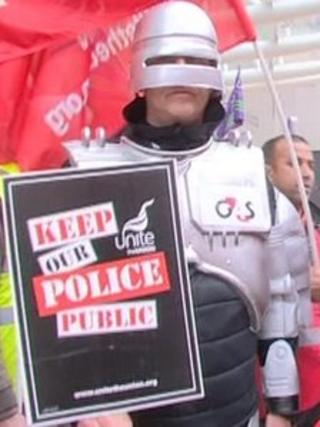 Plans to privatise some elements of policing in the West Midlands have been formally put on hold until July.
The decision was made as dozens of union members protested against the proposals outside the force headquarters in Birmingham.
West Midlands police authority is delaying them until after the Olympics and to allow public consultation.
It follows a move by Surrey Police last week to postpone its privatisation plans until the autumn.
In March, the West Midlands and Surrey forces invited bids for £1.5bn worth of services from private firms, on behalf of all forces.
Companies attending a bidders' conference in London were told work that could be contracted out included 999 call handling, prisoner transfer and patrolling neighbourhoods.
'Vehemently campaigning'
Call centre staff, scenes of crime officers and community support staff from the Unite union were among those protesting outside Lloyd House police headquarters.
The union said it welcomed the decision to put the plans on hold but said it regretted the whole process had not been halted altogether.
Peter Allenson from Unite said: "We expect West Midlands Police to hold a proper public consultation and not a PR exercise.
"The force needs to come clean on exactly what privatisation means for police services because this has huge ramifications for all 43 forces in England and Wales.
"We will be vehemently campaigning over the next few months to stop the privatisation of our police once and for all."
Chief Constable Chris Sims confirmed the West Midlands force's commitment to its privatisation programme.
He said: "Working with the private sector is a real opportunity to bring private sector solutions into policing to really transform the way we work, helping us to deliver improved services at lower cost.
"By working with a business partner we believe we will be able to improve the services we provide to the public and operate more effectively."
West Midlands and Surrey forces say they have already received 264 responses from companies for "middle and back office functions".