Birmingham's Spaghetti Junction turns 40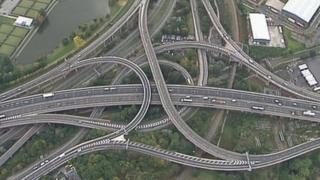 The famous, or infamous, Spaghetti Junction marks its 40th birthday this week.
Loved or loathed by the millions of motorists that use it, its sprawling concrete arteries at junction six of the M6 connecting the A38(M) Aston Expressway into central Birmingham.
Officially opened on 24 May 1972, the Gravelly Hill Interchange - its official name - took four years to build and cost between £9m and £10m.
It was later dubbed Spaghetti Junction by newspaper reporter, Roy Smith, when he worked on the Birmingham Mail.
Mystifying some motorists, its numerous carriageways, supported by more than 500 concrete columns, follow the line of the local canal and river network on elevated sections.
In 2007, motorists voted it the best-known sight seen from UK motorways in an RAC survey.
The engineer
Roy Foot, 84, a retired civil engineer from Kent, worked on Spaghetti Junction for about 10 years when he was with the Birmingham engineering firm Sir Owen William and Partners.
He said it had taken four or five years to design and another four to build.
"In fact it should have opened in September 1971 but we were a bit delayed due to structural checks that had to be made," he said.
"Obviously we looked at all sorts of possible designs so it was a bit of a trial and error process. We got very close to building a two-tiered structure but it became too complicated."
Mr Foot, who worked for the firm for 36 years, said that the decision to add lighting was made fairly late because that was not part of the normal planning process then.
He said he doesn't particularly like the name but is "strangely proud" of Spaghetti Junction.
"It's moved into the national consciousness and I think it's odd how it's assumed an importance completely unrelated to its size," he said.
The Tourists
John Lloyd, former owner of Viking Motors Ltd, ran half-day tours to the sprawling network of junctions when it first opened.
He said it was a topic of interest at the time but was still surprised how popular his tours were.
"We never thought it would have the amount of interest that it did have," he said.
"If people were prepared to pay to be taken there, we'd take 'em there."
He added that he felt that it was also due to the fact people wanted to observe the route before going on it themselves.
"But a lot of them went because it was a novelty, a new site of interest."
John Holmes was the manager of the company based in Burton-on-Trent in Staffordshire.
"We ran about five or six tours in total, with the first being on the day Spaghetti Junction opened - the novelty wore off after the first six months," he said.
Mr Holmes said the tour took passengers through the network "at least twice" to the Aston Expressway towards Birmingham and stopped at the next services on the M6 going north.
Each tour cost 65p, equivalent to just under £10 nowadays.
He said: "The thing I remember the most is the lead up to its opening, there was this great fuss and media focus and people became terribly frightened of it.
"Our passengers tended to be of the older age group - they had very little knowledge of motorways - the concept was very foreign to them."
The residents
Edna O'Connor and her two daughters underwent voluntary blood tests after the road was built to monitor lead levels.
"They asked us to have blood tests for about six months I think.
"Of course I was worried at the time.
"They said at the end of the six months they'd give us a report and then when it came they said it's nothing to worry about.
"When you get a letter to say there's nothing to worry about, you think: 'Oh, I suppose there isn't and see how we go'."
Gloria Baldwin has lived a few hundred metres away from it since it was first built.
She said they were given £200 in compensation by the government.
"It just landed on us," she said.
"No one came to tell us about it or anything.
"We don't like it, it's an eyesore, just horrible."
Mick Pickering, has lived on Slade Road in Erdington for 25 years but said the noise is not an issue.
He said: "When we came down to buy it, we thought it would be noisy but once you're in the house and close the doors you can't hear anything.
"In rush hour the traffic's not moving so it's not making a noise."
The repair team
Highways Agency staff supervisors can walk as many as 12 to 15 miles a day monitoring work on the structure and traffic officers can attend about 20 incidents per week.
Steve Price, Highways Agency traffic office manager, works from the Quinton control centre and said motorists do get lost and "go round and round but get there eventually".
"It covers something like 30 acres in total area but people are only concerned with the lane they are driving in," he said.
"I think people deep down have an affection for it.
"Love it or hate, most people tend to love it really - Spaghetti Junction, it belongs to Birmingham."