MG workers to get £3 each in trust fund compensation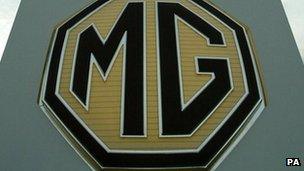 Former MG Rover workers are set to get a payout of just £3 each from a trust fund set up after the company closed down seven years ago.
Former owners Phoenix Venture Holdings had a claim against administrators Price Waterhouse Coopers thrown out by the High Court on Tuesday.
They claimed PWC should not have paid £12m to the HBOS bank because it was pledged to workers.
But HBOS said it was the bank's money to rightfully claim.
In a statement, the Lloyds Banking Group, which owns HBOS, said: "As a major lender to MG Rover we have made losses from its collapse.
"We therefore have a duty to our shareholders, including the taxpayer, to try to minimise these losses.
"It is not in anyone's gift - if indeed that is the intention - to promise to donate money to others that is not legally theirs [Phoenix Venture Holdings]."
There is currently £22,000 left in the trust fund that will have to be shared between 6,500 former workers.
Trustees of the fund have said all legal options to get the money back have now been exhausted.
They have now written to former directors, known as the Phoenix Four, to see if they will make donations to the trust.
Trustee Carl Chinn said: "I would ask them to do not only the honourable thing, but also the humanitarian thing.
"They should recognise the hurt, the heartache that so many people have gone through and put their hands in their pockets.
"They are all multi-millionaires now, and many former workers are struggling," he added.