New £7m Stourbridge Interchange opens to passengers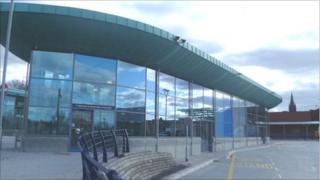 A £7m bus station in a West Midlands town has opened to passengers following an 18-month building project.
The Stourbridge Interchange was built on the site of the old bus station.
Centro, the region's transport authority, said the enclosed, modern and comfortable station was a "landmark 21st Century gateway" into Stourbridge.
Centro chief executive Geoff Inskip added staff were saddened by the recent death of Centro chairman Angus Adams who played a key role in the project.
Mr Adams, 67, who was also a Conservative councillor representing the Norton ward on Dudley Council for 12 years, died earlier this month.
Mr Inskip said: "Angus made a significant contribution to this project and as a Stourbridge councillor it meant a great deal to him.
"I know he was extremely proud of the work Centro had done in bringing the project to fruition so it's poignant that he cannot be with us to see it opened for the people of Stourbridge."
Dudley Council Leader Les Jones said Mr Adams, who was in charge of regeneration, was a "highly valued member of the cabinet who was 100% committed to the council and its residents".
Centro had put up temporary bus shelters along several roads while the new station was being built.
The firm said the new interchange, at the junction of Foster Street East and Vauxhall Road, was a "major improvement" on the old station.
The glass and steel building includes eight bus stands with doors that open when the bus arrives, a shop, electronic information boards and a public address system.
Mr Inskip said: "A lot of thought and care has gone into the design of the new interchange to give the people of Stourbridge a truly world-class facility that is both comfortable and easy to use.
"We believe this attention to detail is important because good public transport plays a key role in underpinning economic growth and job creation."