Birmingham needs 'jobs and chutzpah'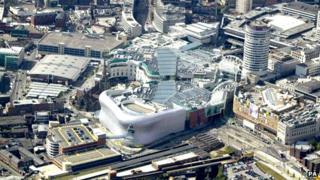 Birmingham was heavily bombed during World War II and when it rose from the ashes swathed in concrete, its reputation as a grey, grim metropolis was sealed.
But for years the city has tried to shake off its image with a succession of glittering developments. And in 2008, city council planners unveiled the multi-billion Big City Plan - a 20-year vision to create a "world class city centre".
The aim is to use public and private investment to increase the size of the city core by 25%, overhaul transport links and create a "walkable" city centre with first class facilities, a new park and 5,000 additional homes.
Clive Dutton, Birmingham's director of planning and regeneration for four years, was one of its main engineers.
Mr Dutton left the city in 2009 to help regenerate Olympic host borough Newham in east London.
But he looks back at Birmingham with fondness and enthusiasm, saying "how could he not be" happy at the way the Big City Plan (BCP) is progressing, with a new £189m library looking "absolutely fantastic" and set to open in 2013 and the £598m revamp of New Street railway station under way.
'Shoulders dropped'
Mr Dutton, who was made an OBE for services to urban regeneration in 1998, is a visionary whose remit was to put Birmingham among the world's top 20 most liveable cities.
He believes within 20 years probably about 80% of the world's population will live in cities.
"In the United Kingdom, Birmingham is the second largest metropolitan area and it's hugely significant to the regional economy which is economically the size of Norway," he said.
"It's just really important to the country and to the people of Birmingham that it is economically successful and that the people who live there enjoy a good and improving quality of life."
In 2005 he found a city "reeling" from MG Rover's collapse, rioting in Lozells and even a tornado which destroyed homes and businesses.
"What I found when I came to Birmingham was, in a way, that the shoulders had been dropped and there wasn't the swagger," he said, adding that it was particularly surprising of a youthful city, with nearly 40% of residents aged under 24.
"I think that was what the city really needed - it had been a long period of time since the city had any degree of swagger and really 'we're going to take the world on' self-belief," Mr Dutton said.
"And I think what the Big City Plan was about was some chutzpah - it was about an audacious response to where Birmingham was at the start of a new century."
Key moments included the Labour government announcing in 2008 it would provide the bulk of funding to transform New Street station, then later John Lewis agreeing to anchor the development's retail element.
"You've got the equivalent of the UK population going through there in passenger numbers but the place was like a vision of hell," Mr Dutton said of New Street.
But creating landmarks and transport links was just part of the story.
"It was really important to get behind projects that will make an economic difference but ultimately the important thing is creating jobs. It is jobs, jobs, job," he said.
"So people look at these big projects and, behind all that, the spirit of the Big City Plan is improving quality of life and the only way you can do that is getting more people into work and into better paid jobs."
This included a city design promoting the "clustering" of hi-tech and creative industries as well as creating jobs outside the city centre.
John Bryson, professor of enterprise and competitiveness at Birmingham University, agreed job creation was key but said there must be "greater focus" on ensuring there was a good skills base.
"The visible focus is the hard infrastructure and quality of life is absolutely critical - but it has to be linked to skills," he said.
He said success on that front was about "being creative", such as universities teaching global languages including Mandarin.
'Balanced economy'
"Successful places have a more balanced economy," he said. "It includes good local and international retail, such as your Chanels and Pradas, as well as good local tourism and manufacturing - you need the whole lot."
BCP pledges to create more than 50,000 jobs and contribute £1.2m a year to the economy.
But Prof Bryson said the city's population projection and the shrinking public sector meant 150,000 to 170,000 new private jobs would be needed within 10 to 15 years.
"I would be absolutely surprised if that was achieved because that's a big ask," he said.
The professor said if Birmingham Airport was to become a core centre for direct flights to China it would be a "big opportunity" because of the country's economic importance.
Meanwhile, Andrew Round, assistant director of planning at the city council, which is run by a Liberal Democrat/Conservative coalition, agreed skills were vital and said Eastside's new "learning quarter", which includes several colleges, was key.
"It's also about creating a high quality cultural environment that means graduates will want to come here and stay here," he said.
Mr Round said some BCP schemes, such as Eastside's 200-metre VTP tower, had been hit by the economic downturn which affected private sector investment.
Eastside is where the city will be linked to London by the £17bn High Speed Two (HS2) rail link and Mr Round said this had impacted on some projects because land was needed for HS2.
He said under approved plans up to £940m of public sector money would be invested in Birmingham by 2015 but private money was very difficult to quantify.
Prof Bryson said he had seen Birmingham "transformed" over the past 20 years and was confident about its future.
"I'm hoping it will be a really dynamic and exciting place," he said. "It will be better than it was."
1.Westsideincludes the new Birmingham library and the expansion of Centenary Square.
2.New Street Stationwill have a larger concourse, eight new entrances and 40 escalators.
3.Snow Hill Districtsees the eastern expansion of the central office core.
4.Eastsideexpands the city centre eastwards and includes a new park. HS2 is expected to provide "a significant catalyst for regeneration".
5.Southern Gatewayredevelops the wholesale markets site with a new public square and improved retail, markets, and leisure space.