Riot victim's father Tariq Jahan admits lying to police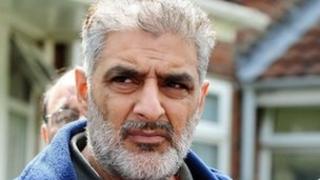 A man who called for calm after his son died during the Birmingham riots has admitted lying to police about punching a man in an unrelated incident.
Tariq Jahan, 46, hit Sajjad Ali in Handsworth, Birmingham, on 6 July 2011.
Mr Jahan, from Winson Green, Birmingham, denies causing grievous bodily harm with intent.
He told Birmingham Crown Court he acted out of self defence but later lied to police about his whereabouts that day to avoid any blame for hitting Mr Ali.
Mr Jahan said: "Once you have started with one lie you have to make up 1,000 lies to cover that one.
"Once I had started there was no turning back."
He said he had acted to protect himself and his wife, who was with him in a car in Factory Road, Handsworth at the time.
'Didn't want confrontation'
Earlier prosecutor Shenaz Muzaffer told the court Mr Jahan got out of the car and hit Mr Ali in an unprovoked attack, breaking his jaw in two places.
The prosecution alleges Mr Jahan had punched Mr Ali for staring at him and his wife.
Defence lawyer Ali Naseem Bajwa QC said it was Mr Ali who had initiated the altercation by mouthing something at Mr Jahan aggressively through the car window.
Mr Jahan told jurors he got out to speak to Mr Ali to try to resolve the situation.
Mr Jahan said: "I didn't want confrontation, I just wanted to try to resolve something that I thought I could resolve. I wasn't proud of what I had done. I was not happy.
"To see what I had done played on my mind as I drove back home. To me, it was the only means of defending myself.
"I was hoping to calm him down. He was a young man and he seemed to be getting aggressive over a minute issue."
Mr Jahan cried as he recounted his version of the events to the court.
Pride of Britain
He denies one count of causing grievous bodily harm with intent and inflicting grievous bodily harm.
The following month Mr Jahan's 21-year-old son died in an unrelated incident during the Birmingham riots.
Haroon Jahan and brothers Shazad Ali, 30, and Abdul Musavir, 31, were struck by a car in the early hours of August 10 during disorder in Winson Green.
They were declared dead in hospital and hailed as heroes who died protecting homes and shops from looters.
Within hours of his son's death Mr Jahan, of Winson Street, addressed a group of youths outside his home and appealed for them to end the disorder and "go home".
His appeal for calm was credited with helping to prevent the riots from escalating.
He was later given a Pride of Britain award in recognition of his dignity and contribution to ending the violence in the aftermath of his son's death.
The trial continues.