Sir Albert Bore backs Liam Byrne in Birmingham mayor bid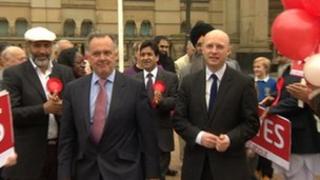 Ex Birmingham City Council Leader Sir Albert Bore has withdrawn his bid to become the city's first elected mayor.
After restating his desire to stand last week, the leader of the Labour group on the council has now announced his support for Liam Byrne.
Mr Byrne has revealed he will stand down as shadow secretary for work and pensions if the city backs a yes vote.
The Labour MP for Hodge Hill said Sir Albert would act as his "number two" in any campaign.
On 3 May, a referendum will be held in Birmingham to decide whether to create the post of elected mayor.
If supported, voters are expected to go back to the polls in November to elect a mayor.
'Unlock potential'
Labour MP for Edgbaston Gisela Stewart and former MP Sion Simon have also been linked with the party candidacy.
Sir Albert said: "We will all support whoever is elected as the Labour candidate. That's the tradition of members of the Labour party.
"I've just thrown my hat alongside that of Liam Byrne."
At a rally in Birmingham, Mr Byrne said his priority would be to create more jobs in the city.
He said: "I think Birmingham is a brilliant city, but I think in the future we can be better still and that's why I think we need an elected mayor, to bring the city together to unlock the potential we've got."
Leader of Birmingham City Council Mike Whitby has been widely linked to the Conservative Party candidacy.