Gypsies agree date to leave Meriden site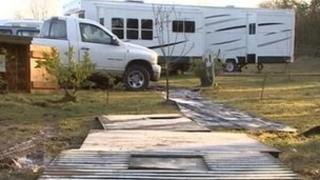 A group of Gypsies has reached an agreement with a council that will see them leave a green-belt site in the West Midlands in 12 months.
It comes after a High Court judge rejected their appeal against a decision which ruled their development could not remain on the Meriden site.
The group put up eight caravan pitches in Eaves Lane in 2010.
Solihull Borough Council said the agreement meant that the Gypsies would leave the site by 31 March 2013.
A council spokesperson added that it also "assures a speedy restoration of the land to its previous condition, by 30 April 2013".
Describing it as a "compromise", the judge said the 12-month order was "proportionate, just and reasonable". He called it a "pragmatic and not unreasonable" solution.
In July 2010, the council refused to give the Gypsies retrospective planning permission, a decision upheld by Secretary of State Eric Pickles last October.
Mr Pickles said he agreed with the planning inspector's opinion that the development "would cause significant harm to the character and appearance of the area".
'Not the place'
The Gypsies claimed that the council did not provide viable alternative accommodation.
Speaking before the agreement was reached, one of them, Senga Townsley, said her biggest fear was "the thought of not knowing where you're going to wake up tomorrow".
Ms Townsley said: "We've just got to fight on.
"We've got no choice until we're offered somewhere else to go."
Nearby residents, protesting against the development, have been keeping a 24-hour vigil nearby.
David McGrath, from Residents Against Inappropriate Development, welcomed the ruling at Birmingham High Court.
Mr McGrath said: "The champagne corks certainly aren't popping tonight but it is nevertheless a very, very important victory.
"That's our eighth legal and planning decision in a row.
"At some point the travellers have to just come to terms with the fact that that is not the place for them.
"It's now their responsibility to talk to the council about its 15-year plan to accommodate Gypsies and travellers."