Ladybird infestations 'doubled' say Birmingham pest controllers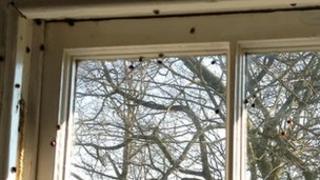 Pest controllers in Birmingham say the number of calls to deal with ladybird infestations has doubled over the past year.
Since arriving in the south of the UK in 2004, the harlequin ladybird has spread as far north as Scotland and become a threat to native species.
They hibernate in clusters inside buildings during winter.
Alan Read, from Altek Midlands Environmental Services, said "there is no end to them taking over."
He added: "They stay in cornices and window frames in the winter and then lay their eggs outside near a food source.
"They are competing for the same food as our native ladybirds - aphids - and the harlequins are winning."
Ladybirds are a type of beetle and there are 46 species native to Britain.
Entomologist Professor Moray Anderson said he did not think harlequins would wipe out native species entirely but in some local areas they may "out compete".
"Every year we hearing about more and more," he said.
"They spread from Essex and are now in the Orkney Islands.
"They're easy to get rid of but the spread of the species has been very successful here."