Patrols after sex worker attacks in Walsall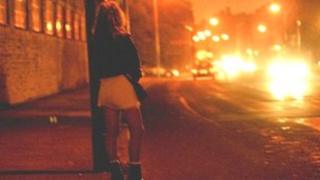 Special police patrols are taking place in an area of the West Midlands after a series of attacks on sex workers.
Ten assaults on prostitutes were reported in Walsall in the past 15 months, with six cases leading to arrests, West Midlands Police said.
However, sex workers told the BBC the figure was the tip of the iceberg, as most attacks went unreported.
The patrols are part of Operation Nominal which has been targeting suspected kerb crawlers in Walsall.
'Left bruises'
Some sex workers told the BBC they believed the number of assaults was far higher than those reported.
Gemma has been a sex worker for 16 years. She has been raped several times but has never reported the attacks to police.
"Even though I'm a prostitute and I'm getting money for it they still had no right. I didn't give my consent," she said.
"They left bruises, They left mental scars."
The force said attacks on sex workers would "not be tolerated" and it had made arrests in 60% of the cases reported.
Since February last year, 42 men have been charged with soliciting a person from a vehicle and others have received police cautions, a spokeswoman said.
Kerb crawlers are also encouraged to attend a rehabilitation scheme if it is their first offence, she added.
'Vulnerable people'
A total of 168 sex workers were arrested during the 15-month period.
Ch Insp Mike O'Hara said the aim was to make Walsall a "hostile environment" for kerb crawlers and to get sex workers off the streets through rehabilitation programmes.
"Prostitution and sex working is very, very complex," he said.
"We are dealing with vulnerable people who have addictions, who are usually brought into the industry very early on so we have issues of child exploitation, issues of education, housing and sexual health."