Sandwell Council's anti-social behaviour line closes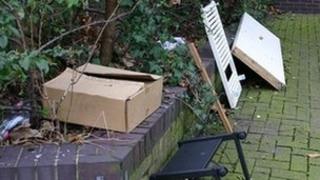 A helpline set up to tackle anti-social behaviour will close because of government cuts, a council said.
Sandwell Council said the helpline and its text messaging service would close on 31 March, saving £47,000 a year.
The West Midlands council said after a "sharp fall in calls" the line now took fewer than 12 calls a day on average.
The council said the launch of the non-emergency 101 police number meant the fight against anti-social behaviour would not be affected.
The Labour-run council added that most calls to the helpline were about fly-tipping and litter, and these were issues also dealt with by its environment helpline.
Derek Rowley, cabinet member for neighbourhood services, said the council could "no longer justify" keeping the anti-social behaviour helpline open.
Home Office funding to the Safer Sandwell Partnership had fallen by 50%, or £182,500 for 2012-13, he added.
This funding will end from April 2013, when the new West Midlands police and crime commissioner will allocate funds to projects.