St Chad's Cathedral in Birmingham hopes to woo sponsors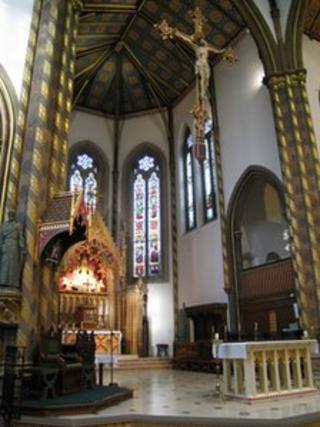 A West Midlands Catholic cathedral needs to generate more cash to help service a £700,000 debt, according to its dean.
It costs £7,000 a week to run St Chad's and its affiliated buildings in Birmingham, of which the cathedral accounts for about a third.
Canon Gerry Breen said the debt was growing because they receive only £600 from weekend collections.
He hopes to gain sponsorship from local businesses to plug the shortfall.
Mr Breen said: "It's a reality we've got to deal with and I've got great confidence.
"The upkeep of the building is quite something. It's very expensive.
"Apart from just maintaining the building there are certain projects that we've undertaken in the way of renovation and restoration.
"As with all buildings of this age that's a constant ongoing project.
"We have a few projects planned to fundraise and to get sponsorship for things that we want to do with the cathedral, the crypt and the surrounding buildings."
The dean hopes a visitors centre will help the cathedral, which was designed by Augustus Pugin and consecrated in 1841, and is confident they will get help "because of the part the cathedral played in the history of Birmingham".
"With all the trades and all the businesses that used to be here and the people of the city [the idea] is to try to encourage those links again particularly with art and design and education," Mr Breen continued.
"We would hope that would generate funds to help with the restoration work needed at the cathedral."