Birmingham dialysis patients in protest over staff cuts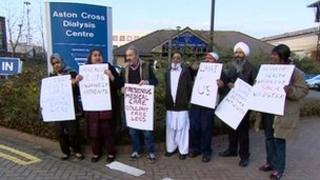 Kidney patients have staged a protest outside their Birmingham dialysis unit after staff jobs were axed.
Private company Fresenius, has made 29 health care assistants redundant across the West Midlands.
As a result, patient Ian Mead said: "Every night since they made these cuts we've all been getting onto the machines late."
But, Dr Nick Richards, Fresenius' medical director, said that, overall, patient-care is "exactly the same".
"We use these staffing levels in several of our units and have done for some years," he said.
'Monitor standards'
Mr Mead said dialysis patients were getting now getting home "as late as midnight" and believes there are "not enough staff to run the unit properly".
Fresenius, whose national headquarters is in Kings Norton, deals with dialysis patients from the University Hospitals Birmingham NHS Foundation Trust.
A spokesman for the trust said: "We have been informed that Fresenius are implementing a staff reduction programme at Aston Cross, City, Hereford, Tipton and Kings Norton dialysis units.
"We will continue to closely monitor the service delivered to ensure that Fresenius uphold the standard of care required in accordance with the terms of the contract."
Fresenius are making nine health care assistants redundant Tipton, six in Aston, four in Walsall and five each in both Hereford and Kings Norton.