Judge considers Meriden Gypsy appeal case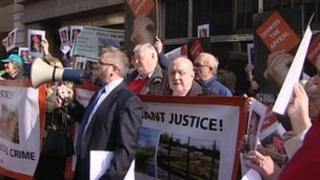 A High Court judge is to decide whether Gypsies can challenge a decision by the secretary of state to refuse permission for their unauthorised development.
In 2010, Gypsies erected eight caravan pitches on green belt land in Eaves Lane, Meriden, in the West Midlands.
Solihull Council refused to give them retrospective planning permission.
The decision was upheld by the Secretary of State in October. The High Court in Birmingham has heard their case to decide if they can appeal.
A decision is due to be made on Tuesday, 27 March.
The group Residents Against Inappropriate Development (Raid) protested outside the court and called on the judge to "protect the countryside".
The Gypsies have claimed that Solihull Council did not provide viable alternative accommodation.