Sandwell ranks second in UK firms' insolvency league table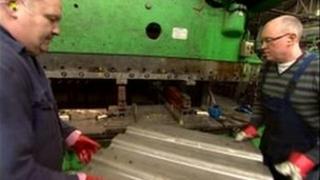 Sandwell in the West Midlands is one of the worst places in the UK for business insolvencies, research suggests.
Only Slough has a worse record. In 2011, 269 firms went into administration in Sandwell, a rise of 2.3% on 2010, information firm Experian has said.
Metal fabrication firm BC Barton and Son was one of those firms.
It went into administration in November and half the workforce lost their jobs, however, after being bought by another firm production is continuing on site.
The company had some high-profile customers that made it attractive to potential buyers.
'Sometimes squeezed'
Production continued throughout the time it was in administration and in January the firm was effectively bought out of administration and started trading as BC Barton Limited.
BC Barton Limited is proof that insolvency and administration is not always the end of the road for workers.
Mike Dell, who is also the president of the Black Country Chamber of Commerce, helped to save jobs at the site and said he was not surprised that some firms were still finding it tough.
He said: "It's still very tight, so whether you're trying to borrow from a bank or have decent credit terms with your supplier, it's still very difficult to get enough credit.
"Sometimes you just get squeezed."
But it is not all doom and gloom in Sandwell.
The same research, which has been commissioned by the BBC from Experian, also suggests the Black Country borough has a higher than average rate of business start-ups.
Only Coventry and Birmingham saw its business base grow faster.
'Not afraid'
One of the new Sandwell firms is Spintec Ltd, which specialises in metal spinning.
Sandwell provided an ideal location for the company, both geographically and in terms of acquiring the right skills.
Managing director Andy Taylor said: "Metal spinning is such a niche industry.
"There aren't many people around the country that can do it and historically the Black Country has always had metal spinning people here."
Metal spinning machine operator Steve Walters added: "Black Country people will do jobs that other people might not take a second glance at. They're not afraid to get their hands dirty."
Another key finding from the research suggests that the number of firms in Sandwell that export their products is falling.
Exports are important at a time of recession. Economists often talk about the "export-led recovery". However, again Sandwell's fall in exports masks a more positive picture, which indicates a growing level of orders from the UK instead.
One firm that is reaping the rewards is precision engineering firm Berck Ltd which mainly makes components for the automotive industry.
Recruitment opportunities
It has recently seen work, previously sourced abroad, come back to the UK.
Berck Ltd managing director Darren Yates said: "The home markets are busier. There are three multi-national companies we are working for, one being a British company.
"Originally they were outsourcing work in a low cost region. We are now seeing the benefit of that because they want us to be the source for that particular component."
Although Sandwell is clearly a very volatile area, when it comes to the economy and recovery from recession, in some places things are going well.
Interestingly, all three firms said that order books were so good at the moment that they were actively considering taking on more staff.