Birmingham's Hobbit cafe may change name over legal row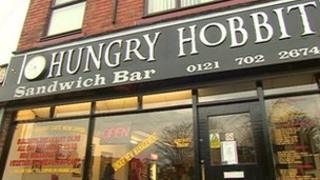 A Birmingham cafe in the area where The Hobbit author JRR Tolkien grew up is planning to change its name after a legal row with a US film company.
The Hungry Hobbit, in Moseley, may change its name to Obbit or have one 'b' back to front to appease lawyers from the Saul Zaentz Company (SZC).
SZC owns some Tolkien brands and has accused the cafe and a Southampton pub of copyright infringement.
Cafe owner Wendy Busst said she did not want a "six-figure" court battle.
'Nominal fee'
"They are very big company and we are just a small local cafe," she said.
Producer Paul Zaentz from SZC told the BBC trademark law dictated the firm had to act against infringements of its brands.
He said: "Regardless of the size of the company, if we didn't go after these infringements, then other people would say 'if they can use them without authorisation, why can't we?'
"When it's an established business, we like to get the company to acknowledge they are using our trademarks, stop selling infringing articles and then we will grant them a licence for a nominal fee - approximately $100 a year."
TV personality Stephen Fry has backed The Hobbit pub in Bevois Valley which has also been threatened with legal action by lawyers from SZC in California.
'Proud of history'
The support of Mr Fry, who is in New Zealand working on The Hobbit film, has been credited with boosting the pub's Facebook supporters to more than 15,000.
Ms Busst said she had also received a lot of support, especially on Twitter, and had been in contact with the pub about the way forward.
But Ms Busst, who took over the cafe last June, said she wanted to avoid an expensive legal battle.
"It would be nice to fight for the name but this would be costly in court and I'm not in a position to take that risk," she said.
Ms Busst received the letter headed "Unauthorised Use of Hobbit" in November and has since had several discussions with a SZC lawyer.
She said although "very nice", he was insistent the cafe's Hobbit branding was "phased out".
"It's a shame and a bit petty and very sad," she said. "We should be proud of having this bit of history."
'Worldwide rights'
Ms Busst said changing signs, aprons and menus would be expensive for the small business.
Tolkien grew up in the village of Sarehole, which is now part of Birmingham.
It is thought Sarehole Mill and nearby Moseley Bog inspired some of the author's stories.
The Lord Of The Rings and forthcoming The Hobbit films, made by New Line Cinema, were licensed from SZC.
SZC itself produced an animated version of Lord of the Rings in 1978.
It asserts it has "exclusive worldwide rights to motion picture, merchandising, stage and other rights in certain literary works of JRR Tolkien including The Lord of Rings and The Hobbit."