London 2012 Festival: Helicopters in Birmingham opera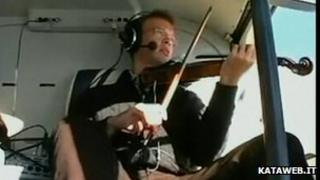 An opera involving four helicopters will be staged at a former Birmingham chemical plant as part of the London 2012 Festival.
Mittwoch aus Licht by Karlheinz Stockhausen will be performed by 150 people at Argyle Works, Great Barr Street, from 22 to 25 August.
Four string players will be in the helicopters in one of the movements.
It is estimated to be costing about £1m, with Arts Council England putting £920,000 into the project.
An announcement about the event was made by Birmingham City Council leader Mike Whitby at a briefing in London.
The piece, which means Wednesday from Light, is in six parts and features two choirs, solo instrumentalists, live electronic and acoustic music and a dancing camel.
The music will be relayed to an audience gathered in an abandoned factory in Digbeth where the rest of the performance will take place.
Large ship
Licht is a cycle of seven operas - one for each day of the week.
Produced by Birmingham Opera Company, Mittwoch will include local performers recruited and trained through its participation programme.
Jean Nicholson, from the company, said: "Those who were around in the '60s will know Stockhausen was a bit of a cult figure with The Beatles and others.
"He put together a series of operas named after the day of the week and this was the last one he did."
Ms Nicholson added: "It's one of the biggest events in the 2012 Festival and it's a real feather in the cap for the city that people think that we're good enough to do it.
"It's going to cost a lot of money, but we're going to be spending pretty well most of that in Birmingham.
'Really extraordinary things'
"It's going to provide work for quite a lot of Birmingham-based musicians and singers and it's going to be bringing a lot of visitors to Birmingham as well."
Paul Kaynes, West Midlands creative programmer for London 2012, said: "This is a moment for doing really extraordinary things. If we can't do them this year I don't think that we can ever do them really.
"We hope that millions of people will see it around the world because the helicopter section of the opera is going to be streamed live."
The Cultural Olympiad concludes with the London Festival 2012, which will bring together artists from around the world from 21 June till 9 September - the final day of the Paralympic Games.
Other events planned in Birmingham include a performance called The Voyage in June, in which a late-night dance event featuring 140 performers will take place on a large ship built in Victoria Square in the city centre.