Birmingham mayor referendum: Campaigners want voters to be aware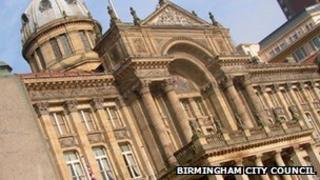 Campaigners both for and against an elected mayor in Birmingham say more needs to be done to make voters aware of the referendum on 3 May.
A Populus poll carried out for BBC WM suggests 59% are unaware of the vote.
Jerry Blackett, a businessman from the city, said the results showed there was a need to "make the case" for a mayor.
Conservative city councillor James Hutchings, who is campaigning against an elected mayor, said "people are incredibly ill-informed about it".
A cross-section of 500 Birmingham residents were surveyed in February.
The poll showed 69% of women and 84% of 18-24 year olds questioned did not know about the spring referendum.
Just over half of those surveyed thought the city should have a directly-elected mayor. Results indicate that younger people are more likely to support a directly-elected mayor than older age groups.
Some 74% of those questioned said they would be voting in the referendum.
'Move debate forward'
Mr Blackett, chief executive of Birmingham Chamber of Commerce, which is supporting the campaign for an elected mayor, said: "The success of the 'yes campaign' depends on its ability to engage real Brummies in the elected mayor debate.
"With the referendum now just eight weeks away the onus is on those of us who support the campaign for an elected mayor to make the case to Birmingham's citizens. This means we must move the debate forward and start talking to people in Birmingham's different communities about what a mayor can do for them.
Mr Hutchings, who co-chairs the Vote No To A Power Freak campaign, admitted they wanted "more people to know about it".
He said: "Nobody's been interested on the doorstep for the last five years. People don't want to know.
"People are incredibly ill-informed about it. It is not a subject they've been engaged with or interested in."
If the referendum poll comes out in favour of a mayor, then voting for the new position will take place in November.