London 2012: Dominica boxing hopefuls train in Wolverhampton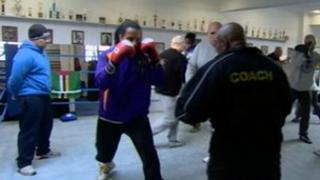 Boxers from the island of Dominica hoping to qualify for the 2012 Games have started training in Wolverhampton.
Middleweights Hewlett Lucien, 26, and Rowain Christopher, 33, hope to secure a place in the Olympics at a qualification event in Brazil in April.
The deal to train at Wolverhampton Amateur Boxing Club was reached after a former member of the club returned to his native Dominica five years ago.
Trevor Nerwall, 44, kept in touch after setting up his own gym on the island.
Secretary of the Wolverhampton club John Thomas said up to 12 trainers would work with the middleweights "to give them every opportunity to win a place at the games".
"The club has been going since 1936 and we're very proud of our club. Not one of us gets a penny, we're all volunteers," he added.
Mr Lucien said: "We're just adjusting to the whole environment, but we're looking to kick it up in the coming weeks".
The boxers are staying in the city with another member of the club, Andrew Pettey, who said he was helping the boxers adjust to life in the Black Country.