Meriden Gypsy protesters served with enforcement notice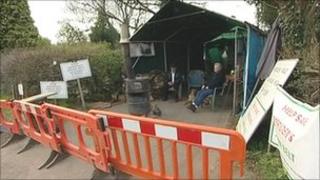 Protesters camped outside an illegal Gypsy site in the West Midlands have been told they need to remove their temporary shelter by 29 April.
Residents Against Inappropriate Development (Raid) set up their own camp in protest at the unauthorised site in Meriden in 2010.
Raid has now been served with an enforcement notice by Solihull Borough Council.
The notice takes effect on 29 March and allows one month for compliance.
Group spokesman David McGrath said it would eventually dismantle its caravan and awning in Eaves Green Lane.
He said: "When the council's deadline passes we will take down the shelter but we won't go away and we won't stop protesting."
Raid members have been taking it in turns to hold a 24-hour vigil at the camp since the Gypsies erected eight permanent caravan pitches in the village on 30 April 2010.