Carver family will rebuild Wolverhampton business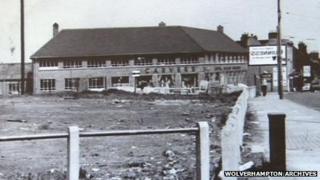 Smoke could be seen across Wolverhampton city centre as the home of a company that has been trading for 116 years was destroyed by a fire.
Carvers builders merchants is a landmark site on Littles Lane, near the Molineux football ground and ring road.
Up to 75 firefighters tackled the blaze on Wednesday after it quickly took hold.
It has been a family business for five generations and owner Henry Carver has vowed to rebuild it.
He said: "We got everybody out very quickly and did a little last-minute walk around, until I took a few gulps of the smoke and realised I had to get out myself pretty quickly.
Opening other branches
"It's 116 years going up in 10 or 15 minutes in front of you.
"Hopefully, we're all made of strong stuff, we want to regroup and want to get enough insurance payments to begin.
"The whole thing [building] is devastated and will need to be rebuilt."
"We want to carry on, we employ about 200 people.
"I guess it's a trick we know and we've been reasonably successful at it. You look at the sadness on their [employees] faces and want to do it for them".
Crews believe the fire may have started in a wood stove used to treat timber and it is estimated the damage could run to £10m.
The business began in 1896 in Willenhall by Harry Carver, with help from his brother Horace, and backing from their father, John.
They originally rented premises in what is now known as Bilston Street in Willenhall.
It continued to become a true family business with other Carvers joining and other branches opening up.
Extended family
They moved to the Littles Lane site in the early 1970s and continued to expand by purchasing extra land.
Sheila Carver, who is the mother of current owner Henry, is taking her inspiration from the aftermath of the riots of August 2011.
She said: "I'm devastated, obviously... But as I keep saying, that old man down in Croydon, can rebuild his furniture shop, so can we - and we owe it to the workforce."
Last year, House of Reeves in Croydon, a 144-year-old store run by the same family for five generations, was burnt to the ground during the summer riots.
At the time, director Trevor Reeves said the "brilliant spirit" of the staff and community's support "spurred us on".
The Carvers' firm is also behind the Wolverhampton City Marathon, which takes place every September and has raised more than £135,000 for local charities.
However, it is not just the Carver family who have been hit hard by the fire, as the extended family of employees have too.
John Parker, who has worked for the company for about 20 years, said he felt "gutted" about the fire.
"It's our livelihood. It's like part of the family gone," he said.