Pugin trail highlights his legacy in Birmingham and beyond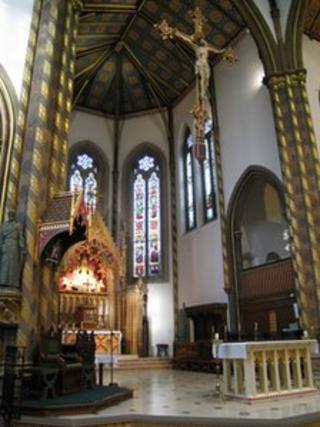 The bicenentary of one of Britain's Victorian designers and architects is being celebrated with a trail and exhibition of his work in Birmingham.
Augustus Pugin, born in London in 1812, worked on many buildings and churches in the West Midlands.
Many of his works can still be appreciated today, such as St Chad's Cathedral in Birmingham.
The Birmingham Pugin Trail, launched on his birthday, 1 March, will highlight his work in the city.
It has been created by the Pugin Society and Birmingham Museums & Art Gallery.
Significant to city
One of Pugin's most famous works outside of the West Midlands is the interior of the Palace of Westminster and its clock tower in which Big Ben hangs.
He re-built it with the architect Charles Barry and their relationship began in 1835 when they began building and designing King Edward's School in New Street, Birmingham.
Places of interest on the trail include St Chad's Cathedral and Bishop's House, which were both completed in 1841.
The cathedral was the first Catholic cathedral to be built in the UK since the Reformation.
Antiques and ceiling lights
Pugin collected antiques and provided the cathedral with some original medieval furnishings, which include the 15th Century German Canons' stalls and the pulpit.
The Bishop's House was demolished in 1960 and some of the contents were sold. One of the Gothic ceiling lights was once owned by the singer Cher and was part of her home in Malibu.
Councillor Martin Mullaney, cabinet member for leisure, sport and culture, said: "There is a wealth of works by Augustus Pugin on display in Birmingham and this fascinating trail and exhibition will reveal just how significant the city was to him.
"I have no doubt that admirers of Pugin both locally and from across the country will be delighted by the breadth of work that is on show."
Pugin and Hardman
Another stop on the trail is Birmingham Museum & Art Gallery, which has objects designed by Pugin on display, including the rood screen from St John's Church in Staffordshire, letters from Pugin and documentation of items for the Houses of Parliament.
The trail also explores the work and friendship between Pugin and John Hardman & Co, who produced metalwork and stained glass in the Jewellery Quarter.
There will be an exhibition at the Museum of the Jewellery Quarter called Entwined: Pugin and Hardman, which runs from 17 March - 26 January 2013.
Pugin and Hardman worked together on the interior of the Houses of Parliament and the design drawings will be part of the exhibition.
Cheadle in Staffordshire will also be marking the bicentenary of Pugin's birth with a series of events over 12 months.
North Staffordshire features 14 Pugin buildings.