Kraft opens £17m research base at Cadbury in Birmingham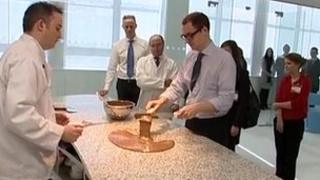 A new research and development facility has been officially opened at the home of Cadbury in Birmingham.
Owners Kraft Foods unveiled its Global Centre of Excellence for Chocolate Research and Development in Bournville.
The £17m centre, opened by the science minister David Willetts, is set to create 54 new jobs and will feature innovation labs, a pilot plant and a kitchen for experimentation.
In December, it emerged that Kraft was to cut 200 jobs at three Cadbury sites.
The food giant, which bought Cadbury for £11.5bn in 2010, said the funding would allow Bournville to build on its heritage, develop new products and test consumer tastes.
Tony Bilsborough, from Cadbury, said: "When George and Richard Cadbury opened Bournville back in the 1870s, it wasn't simply a factory that made chocolate, it also invented some of the great names we know today.
"So it's wonderful to be here in 2012, celebrating innovation; research and development.
"We're back at the heart of what makes this company great."
Bristol closure
Professor David Bailey, from Coventry University's Business School, said: "I think it is important in terms of new high quality jobs.
"But more importantly, I think it's about securing the Bournville plant in the medium term.
"I still have fears for the long term given the Kraft takeover and how they've behaved in the past with companies."
Despite planning to spend £50m on chocolate and biscuit making, the firm has said that 200 posts were to go in Bournville, Chirk in Wrexham, and Marlbrook in Herefordshire.
"We're trying to manage that through voluntary redundancy," added Mr Bilsborough.
The former Cadbury factory in Bristol was closed in January 2011, with the loss of 600 jobs.
Kraft's chocolate research centre was originally based in Munich, where the company developed products such as Milka and Toblerone.