Environment Agency threaten action on Brierley Hill rubbish mound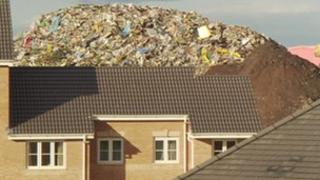 A Black Country company ordered to reduce a pile of rubbish could be stopped from operating.
RDF (Refuse Derived Fuel) Limited is accused of missing at least five deadlines to reduce the size of a waste heap in Brierley Hill.
The Environment Agency said the company was in breach of its licence and that it had now withdrawn all deadlines and would be taking "alternative action".
RDF Limited declined to comment on the Environment Agency statement.
Residents in Brierley Hill have complained about the size of the tip and the amount of dust being blown into the surrounding area.
They also claim the rubbish pile, which includes household and industrial waste, it is a health hazard.
The Environment Agency became involved last summer and has repeatedly ordered RDF Limited to reduce its 30ft (9m) waste tip.
The agency said the company missed January's deadline, claiming it needed more time.