Photography project looks back at West Midlands Police motorbikes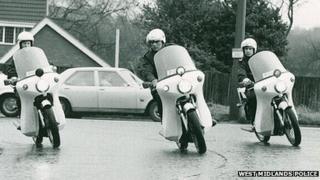 The police car is a familiar sight around towns and cities, and one that has changed with the times.
However, the police motorbike is also an aspect of the life on a force that has developed over the years and has been adapted to meet the needs of modern technology.
West Midlands Police has been re-visiting its archives as part of its Photo-a-Day social media project.
They recently shared a photograph of motorcycles from the 1970s and compared them to the bikes in 2012.
Norton and Triumph
Since the launch of the project on 1 January, the images on the West Midlands Police Flickr page (and through Facebook and Twitter) have attracted more than 100,000 views.
Many of the early bikes were not only ridden in the West Midlands, but were also built in the region.
These include Norton motorcycles, originally built in Birmingham, and Triumph, built in nearby Meriden.
One person who remembers the changing faces of the West Midlands Police motorbikes is retired police motorcyclist, Bob Bishop.
Mr Bishop ended his service in 2010 and now works at the National Motorcycle Museum, near Solihull.
He said: "I joined as a cadet and there were three police motorcycle courses.
"One which allowed you to use the small rural bikes, one for traffic duty, and then the advanced course that allowed you to pursue at high speed and escort ambulances and VIPs."
During his time with the force he helped provide police escort to Diana, Princess of Wales, Prince Charles, Nelson Mandela and US President Bill Clinton.
Speaking about the improvement of the bikes over the years, Mr Bishop said: "They laid out better, handled better, performed better and had better braking.
"Later on, the manufacturers got together with the police to adapt lights and sirens with the handlebars instead of just making them an addition to a bike.
"They spoke to riders to see what they wanted to make life easier."
Speaking about the West Midlands Police photography project, Insp Sally Seeley, said: "The whole idea of the photo of the day is to provide the public with a better understanding of the sheer breadth of work undertaken by West Midlands Police."
Other images shared so far include an antique charge desk at the Coventry Police Museum, pictures of forensic science investigators at work and police dog puppies.