European librarians visit Birmingham's £189m facility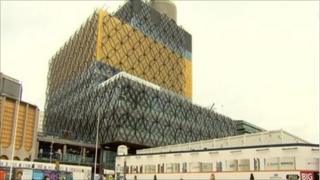 More than 250 senior librarians from Europe are gathering in Birmingham to discuss the future of library services.
As well as meeting at the Town Hall, visitors will see progress on the £189m library being built in Centenary Square.
The 10-storey development, which will have an outdoor amphitheatre, is due to open next year.
The site will also include a theatre, recording studio and free access to the National Film Archive.