West Bromwich Albion fans' ovation for singing schoolgirl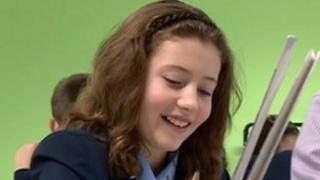 A 12-year-old girl got a standing ovation after singing in front of more than 25,000 Premier League football fans.
Emily Badger from Tividale in the West Midlands performed West Bromwich Albion supporters' anthem The Lord Is My Shepherd, at the game on Saturday.
She said it made her feel "tingly", "proud" and added that she "really enjoyed it".
West Brom beat Sunderland 4-0, their first league home win since November.
'Singing and waving'
The club said it was inspired to have someone sing at the game after seeing something similar at a top flight game in Germany.
It said it got to hear about Emily's talents through the Albion Foundation, a charity that works within the community and with local schools.
Before stepping out in front of the crowd at The Hawthorns, Emily said she felt "tingly" but said she "really, really wanted to do it so I was looking forward to it".
"They [the fans] were all quiet and then when it came to the end, they were singing and waving their scarves and all that."
'Great reception'
Emily's mother, Debbie Copson, said she was "extremely proud" of her and had "tears in my eyes".
"It's her biggest ambition to sing or to perform to people, the bigger the audience, the better," she added.
West Brom spokesman Chris Hall said Emily was "terrific".
He added: "Performing in front of more than 25,000 people is a huge challenge but she showed no nerves whatsoever.
"Emily received a great reception from the supporters and she helped to provide a platform for a fine afternoon for the club