Birmingham and Black Country chosen as Nature Improvement Areas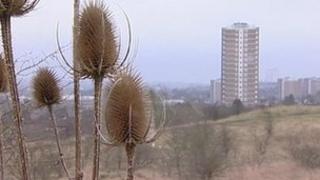 Wildlife habitats will be protected in Birmingham and the Black Country due to a £650,000 grant.
The area experienced high ecological degradation during the industrial revolution and has been chosen to become a Nature Improvement Area (NIA).
The government plans to fund NIAs to curb the loss of nature and strengthen links between people and the wild.
Funds will help to preserve and manage existing woodlands, heaths, streams and other wetlands in the West Midlands.
It will become one of 12 NIAs nationwide.
Neil Wyatt, chief executive of the wildlife trust, said the region had few areas that could be described as natural wildlife habitats, but if people valued their countryside they had to manage and protect it for future generations.
"The industrial revolution really did wipe out an awful lot of wonderful wildlife," he said.
"I think the area between Moorcroft Wood and Birmingham City Centre was almost all heathland once.
"We have lost an awful lot but we are getting it back and the NIA is going to bring it back even faster."
The NIA will be supported by 40 partner organisations, including five local authorities, the Black Country Consortium, British Waterways, Natural England, the Environment Agency, the Forestry Commission, RSPB, The Woodland Trust, Birmingham Open Spaces Forum, Black Country Geological Society, and voluntary groups such as the West Midlands Sustainability Forum, Birmingham Friends of the Earth, Birmingham Trees for Life.